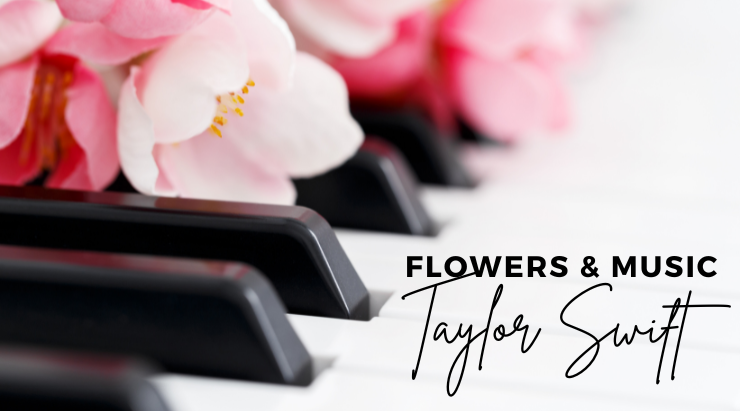 Music has always been able to incite emotion and provide a deeper meaning than what might otherwise be said, just like flowers. We've done a deep dive into Taylor Swift's discography and matched arrangements we think represent each album perfectly.
Taylor Swift (Debut) – Magnificent Affection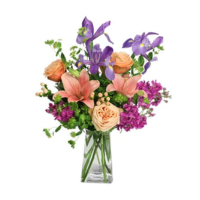 Debut will always hold a special place in our hearts because it was the beginning. Taylor came onto the scene and changed the game. With straight country tones and writing, Debut depicts the youthful experience, much like the Magnificent Affection arrangement. The coral roses represent enthusiasm (Our Song) and desire (Tim McGraw), the iris represents faith (A Place in This World), hope (Mary's Song), courage (Picture to Burn), and admiration (Stay Beautiful), while the pink lilies represent femininity (Teardrops On My Guitar). Full of young love and growing up, Debut is something to be treasured, just like the Magnificent Affection bouquet.
Fearless (Taylor's Version) – Free Spirit Garden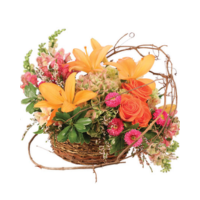 Taylor's second album, Fearless, earns its name by being bold and headstrong. Still sticking with her country roots, Fearless is full of hope, love, and the emotions of being young and free, making Free Spirit Garden a great representation. The yellow alstroemeria represents happiness (Fearless) and joy (Today Was A Fairytale), the coral roses represent enthusiasm (Jump Then Fall) and desire (The Other Side of The Door, The Way I Loved You), while the orange lilies symbolize confidence (You Belong With Me, Hey Stephen) and pride (Mr. Perfectly Fine). If you're wanting a floral representation of Fearless, look no further than the Free Spirit Garden basket.
Speak Now – Whimsical Lavender
Speak Now holds a special place in the hearts of Swifties, mainly because Taylor wrote the entire album herself, something she had never done before. It really dives into growing up, new relationships, and figuring things out. It's very dreamy and enchanting, which is why we chose the Whimsical Lavender bouquet. The lavender roses represent love at first sight (Mine) and budding romance (Sparks Fly, Enchanted), the purple scabiosa represent unfortunate love (Dear John, The Story of Us, Haunted), the iris symbolizes hope (Long Live), courage (Mean), and wisdom (Innocent), while the blue larkspur symbolizes dignity and grace (Never Grow Up). Speak Now captures the beauty, love, and heartbreak of growing up, making it one people will continue to connect with for years to come, just like the Whimsical Lavender bouquet.
Red (Taylor's Version) – Crimson Ivy Roses
This is probably one of the most well-known albums from Taylor's discography, and rightfully so. Red is full of heartbreak and emotion, but it's also full of growth and learning from past relationships. It's classic Taylor, which is why Crimson Ivy Roses represents it well. After all, there's nothing more classic than red roses and Taylor's red lipstick. Red roses are well-known to symbolize love (The Very First Night, Red, Everything Has Changed), but they also represent romance (State of Grace, Treacherous), beauty (Starlight), and courage (Holy Ground). Red roses are definitely representative of the album and Taylor in general, but the eucalyptus is actually the main reason we chose this arrangement. Eucalyptus is believed to have a purifying and cleansing effect, much like sage. It can be used to cleanse negative energy and feelings, much like Red. This album is full of heartbreak, but it's also full of healing, much like the Crimson Ivy Roses bouquet.
1989 – Stunning Surprise
Switching from her country roots to pure pop, 1989 was a complete 180 from what Taylor was known for. It's vibrant, exciting, and fun but also full of love, heartbreak, and friendship, which is why we picked the Stunning Surprise bouquet to represent it. The pink daisy poms symbolize romance (You Are In Love, This Love), the green anthurium symbolizes growth (Shake It Off), freshness (Welcome to New York), and power (Bad Blood), while the purple statice represents memory (Wildest Dreams), remembrance (Clean), and "I miss you" (All You Had To Do Was Stay). The bright pink stargazer lily symbolizes prosperity and abundance, which we think perfectly represents the 1989 album as a whole.
Reputation – Gentle Magenta
While Reputation might have the reputation (haha, get it) of being a revenge album, it's actually more of a love letter about a new relationship. With songs like Call It What You Want To, Delicate, and Gorgeous, you can't mistake the romantic aspects of this album as a whole, which is why we think Gentle Magenta is the perfect bouquet to represent it. At first glance, this arrangement is dark and moody, much like Reputation, but when you look closer, you can see the true beauty and meaning. The dark purple tulips symbolize royalty (King of My Heart) and rebirth (Getaway Car), the purple calla lilies symbolize passion (Dress, I Did Something Bad, Don't Blame Me), while the lavender roses represent love at first sight (Gorgeous) and a budding romance (Call It What You Want). Reputation is truly a romantic album, and there's no better arrangement to represent it than Gentle Magenta.
Lover – Bashful Enchantment
Lover explores love in all forms, not just romantic love. It's full of all the different types of relationships and the feelings you have in them, like passion, anxiety, and more. It shows that love in all forms is beautiful, which is why we chose the Bashful Enchantment arrangement to represent it. The lavender roses symbolize love at first sight (Paper Rings, Cruel Summer) and budding romance (I Think He Knows, Cornelia Street), the pink hydrangeas represent heartfelt emotion (The Archer, Soon You'll Get Better), while the lavender stock symbolizes lasting beauty (Daylight), happy life (Lover), and contented existence (I Forgot That You Existed). Lover encapsulates all the feelings and emotions of the different types of love, making it just as beautiful as the Bashful Enchantment bouquet.
Folklore – Rustic Winter
Taylor really flexed her pen game on this album. Completely different than anything she's ever done, Folklore focus on characters, not her own life, allowing her to explore different experiences than those she herself has experienced, which is why the Rustic Winter bouquet fits so well. The white stock represents honesty (this is me trying, peace), the light pink roses represent sweetness (invisible string) and happiness (seven), the light green roses symbolize growth (betty) and abundance (the last great american dynasty), while the white roses represent innocence (hoax, epiphany). Folklore showcased Taylor's lyrical prowess and truly made a way for people to connect and process their emotions during such a difficult time. It's this connection and storytelling that make Rustic Winter a great representation.
Evermore – Entranced Meadow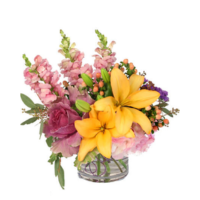 A sister album to Folklore, Evermore explores more of the fantasy storytelling Taylor leaned into during the pandemic. While the songs might not be about actual people, it's still easy to connect to the characters and experiences they go through. Evermore is full of songs about life, loss, growth, and more, which is why we think Entranced Meadow represents it perfectly. The orange lilies represent confidence (willow), the pink hydrangea symbolizes heartfelt emotion (ivy, dorothea), the purple statice represents memory ('tis the damn season), remembrance (champagne problems), and "I miss you" (marjorie), while the pink snapdragons symbolize grace and strength (happiness). Evermore is an album full of beauty and emotions, just like the Entranced Meadow bouquet.
Midnights – Mystic Meadow
Taylor's tenth album, Midnights, marries her earlier pop sound with the lyricism and storytelling she utilized in Folklore and Evermore, creating something truly unique and magical. Featuring songs about love, loss, self-image, and more, Midnights is never more represented than with the Mystic Meadow arrangements. The peach carnations represent humanity (Bigger Than The Whole Sky) and love (Lavender Haze, Paris), the succulent represents tenacity (You're On Your Own, Kid), strength (Mastermind), and selfless love (Sweet Nothing), while the light pink roses represent sweetness (Snow On The Beach) and happiness (Karma). The Pink Mink protea is said to symbolize a standout beauty that embraces uniqueness and diversity, with the boldness to create and accept the inevitable changes, and if that doesn't perfectly describe this album and Taylor Swift, we don't know what does.
Flowers and music might not be partnered up often, but they really do go hand-in-hand. Want to add a Taylor Swift-themed bouquet to your home? A local florist can help you create something enchanted!
*All songs and albums mentioned are owned by Taylor Swift. Please don't sue us—we love you.