Balloon bouquets lift spirits and are perfect for special occasions. Florists across America have balloons available in a huge variety of shapes, sizes, colors and themes. They can be added to an arrangement of flowers or plants, delivered in a big bundle all by themselves, or used to enhance any festive event. Colorful birthday balloons add bounce to the celebration. Shiny Mylar balloons elevate the mood of any party. Balloons are being used as decorations for weddings, gifts for retirees, get well messages for patients, and whimsical treats for kids and adults alike. They are even soaring to new heights at celebrations of life – otherwise known as funerals.
Types of Balloons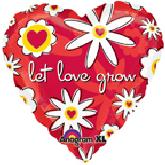 Balloons are generally available in two types – the traditional latex balloons, which are made of a thin, stretchy kind of rubber, and the popular Mylar balloons, manufactured of metalized film. Each type of balloon has its own unique attributes, comes in many sizes, and can be used in several ways.
Because latex is somewhat porous, balloons that are made from it will not stay inflated as long as Mylar balloons. Latex balloons may be inflated with either air or helium. Because a molecule of oxygen is larger than a molecule of helium, air-filled balloons will stay inflated longer than helium balloons will, since the larger molecules do not pass through the balloon's "skin" as easily. But air-filled balloons, of course, don't float. Many florists use a special product – something like rubber cement – to coat the inside of a latex balloon before inflating it with helium. This helps seal the pores in the latex and keeps the balloon afloat longer. Still, latex balloons are best for short term display.
Recently, event specialists have found an exciting and dramatic way to use them, putting battery operated lights inside giant-sized balloons and floating them over nighttime outdoor parties. The luminous effect can be spectacular!
The special, reflective film which is used to make Mylar balloons isn't as porous as latex, so these balloons tend to last longer after inflation, and because they're not as flexible, less pressure is exerted on the walls of a Mylar balloon. Mylar balloons have another advantage in that they can often be re-filled with either air or helium, extending the life span. Once filled, however, Mylar balloons should be kept away from too much heat or sunlight, which can cause the gas inside to expand and burst the balloon. Your professional florist stocks Mylar balloons in a wide assortment of novelty shapes and characters, suitable for any age or occasion.
Balloon Ideas
Air-filled balloons can be secured into a floral arrangement using special balloon picks. They can also be tied tightly together onto a length of monofilament (fishing line) to create columns or arches – popular props for decorating a special event. Helium balloons can be readily tied to the neck of a vase, the handle of a basket, or a bag of candy.
For a children's birthday party, a clever "Gumball Machine" balloon can be created by stuffing three or four small, air-filled latex balloons of various colors inside a large, helium-filled, clear latex balloon. Everyone will wonder how those "gumball" balloons got inside that bigger one! The trick is to insert the small (5″) balloon into the neck of the large (14″) balloon before inflating either one. Holding the small balloon in place, the large balloon is then partially inflated with helium. Before the gas has a chance to escape, the small balloon is filled with air, tied off, and dropped into the larger one. The process is repeated until the desired number of "gumballs" is squeezed inside the bigger balloon, which is then fully inflated with more helium.
Most florists can assemble a combination of latex and Mylar balloons into festive balloon bouquets and arrange for delivery anywhere, either locally or out of town.
Balloons & Hospital Rules
Most hospitals have special rules regarding balloon delivery. They may limit the size or number of balloons that can be delivered at one time. Mylar balloons may be restricted from patients' rooms due to the fact that they can generate static electricity which interferes with the functioning of electronic monitors. Your local florist can advise you about the hospital rules in your area.
Please remember to dispose of balloons responsibly and avoid releasing them into the environment. They can be very hazardous to wildlife that might ingest them or become entangled in the ribbons or strings used to tie them.
Now is not the time to fight inflation…..send a buoyant balloon bouquet today!